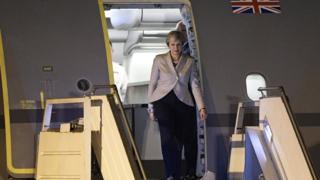 Theresa May has urged MPs to think about their constituents, rather than rejecting her deal for leaving the EU.
The PM, who was on her way to the G20 summit in Argentina, said her plan would protect the "jobs and livelihoods and security" of their constituents.
And she accused Labour of advocating leaving without a deal by rejecting her Brexit compromise while not putting forward a "proper alternative".
Labour argues a better agreement could still be negotiated with Brussels.
There is continued wrangling over the withdrawal deal negotiated with the European Union, which is widely expected to be rejected by MPs when it is put to a Commons vote on 11 December.
Writing in the Daily Telegraph, leading Brexiteer Jacob Rees-Mogg has warned against efforts to "frighten" people into "acquiescing to a non-Brexit Brexit".
Speaking to reporters on her flight to Buenos Aires, Mrs May insisted she had not given up hope of getting her Brexit deal through Parliament, but said if MPs failed to back the agreement it would mean "division and uncertainty" for Britain.
"We haven't had the vote yet. Let's focus on the deal that we have negotiated with the EU, a deal which is good for the UK and good for their constituents," she said.
PM gives no clues over possible Brexit 'Plan B'
By BBC political editor Laura Kuenssberg
However many ways the question was put to Theresa May during a 20 minute press huddle on board the government's Voyager plane, she was resolutely and determinedly not going to let much slip.
What will she do if she can't get her vote through? Is there a plan B? Could there be Norway-style relationship with the EU? Could there be another referendum?
Westminster's awash with speculation and gossip about what might happen next if her Brexit compromise is killed off by her colleagues.
Mrs May is expected to tell world leaders her Brexit deal negotiated with the EU will be good for the global economy.
She will join US President Donald Trump, China's President Xi Jinping and Japan's Shinzo Abe as well as European Council President Donald Tusk and European Commission chief Jean-Claude Juncker at the two-day summit of the G20 group of leading economies.
On Thursday, she refused to rule out the possibility of the UK leaving without a deal if MPs rejected her deal, while Labour Leader Jeremy Corbyn told ITV: "The alternative isn't no deal. Nobody's going to allow no deal. How could we?"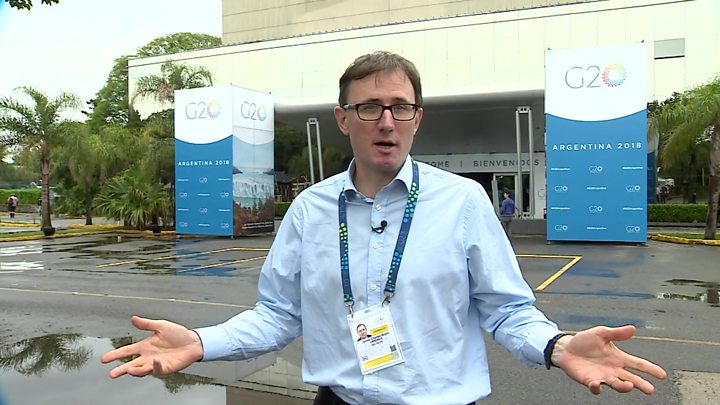 At the summit, Mrs May will highlight her plans to strike a free trade agreement with the EU.
She is expected to tell world leaders: "International firms that have invested in UK production or use European bases to supply the UK market will benefit from these arrangements."
But she will add: "For the first time in more than four decades, the UK will have an independent trade policy.
"We will play a full and active role on trade on the global stage, working with friends new and old, at a time of unprecedented global inter-connectedness."
The summit comes after President Trump suggested that the negotiated deal could threaten any future US-UK trade deal.
Mrs May is the first serving UK prime minister to visit the capital of Argentina, Buenos Aires, and the second to travel to the country, after Tony Blair in 2001.
The Falkland Islands – still claimed by Argentina, 36 years after the 1982 war with Britain – is likely to be discussed at a meeting Mrs May has with the country's president, Mauricio Macri, during the gathering, although the main focus of their talks will trade.
Mrs May said: "I am clear that our position on the sovereignty of the Falklands has not changed. What has changed in recent months is we have seen better relations with Argentina."
'Raise our sights'
In the UK, International Trade Secretary Liam Fox is to defend Mrs May's deal, saying that while it will not please everyone, critics "are yet to face up to" the "tough choices" she had to make.
In a speech at the Portbury Royal Docks, near Bristol, Mr Fox, who campaigned for Brexit, will also play down reports suggesting that UK economic growth after Brexit would be slower than if the UK stayed in the EU.
"The deal we've reached will give us a firm and stable base on which to leave the EU and build this country's global future, a future that still encompasses Europe, of course, but also the wide fast-growing markets beyond, with all the opportunity that entails."